Whole-School Approach
EVERY MEMBER
OF YOUR SCHOOL
COMMUNITY IS AN
INTEGRAL PIECE
OF THE SOCIAL
AND EMOTIONAL
LEARNING PUZZLE!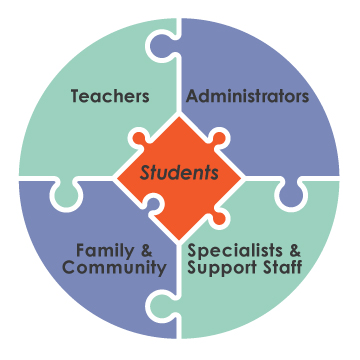 Open Circle provides a unique whole-school model where all adults in the school community – teachers, administrators, counselors, support staff and families – learn to model and reinforce prosocial skills throughout the school day and beyond.
Families are engaged through Open Circle workshops (led by counselors and other school staff) and letters introducing the Open Circle Curriculum approach and key vocabulary (available in eight languages).
Professional development programs are tailored to the unique needs of different staff roles in the school community with specialized training for teachers and counselors, administrators, special subject teachers, support staff and parents.
Schools sustain and improve Open Circle practice over time by developing Open Circle peer coaches and leadership teams, providing mentorship, outcome measurement and action planning. In addition, larger districts can develop Open Circle district trainers, further enhancing sustainability.
This whole school approach also serves as a foundation to preventing bullying behavior. Research shows that when schools take specific steps to improve school climate and encourage positive interactions among students and staff, they proactively address many of the social, emotional, and environmental issues that can lead to bullying.