Outcomes
Two research studies have demonstrated Open Circle's positive impact on students' skills and behavior. The first study found that after receiving one year of Open Circle instruction, both urban and suburban students demonstrated significantly greater social skills and significantly fewer problem behaviors than students in control groups. The largest gains were made by students in urban areas. The second study examined middle school students with at least two prior years of Open Circle participation and found that girls showed a significant increase in self-assertiveness and boys showed higher levels of social skill and self-control and fewer problems with physical fighting. Key results from a June 2013 survey of 460 Open Circle teachers are represented below.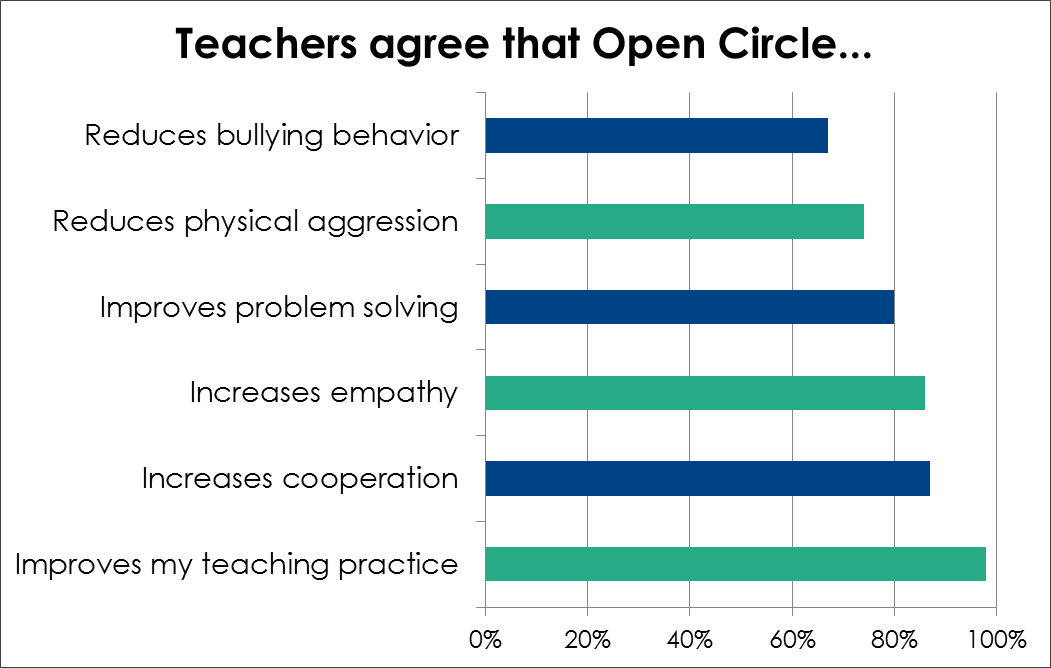 Sources:
Taylor, C. A., Liang, B., Tracy, A. J., Williams, L. M., & Seigle, P. (2002). Gender Differences in Middle School Adjustment, Physical Fighting, and Social Skills: Evaluation of a Social Competency Program. The Journal of Primary Prevention, 23(2), 259–72.
Hennessey, B. A. (2007). Promoting Social Competence in School-Aged Children: The Effects of the Open Circle Program. Journal of School Psychology, 45, 349-360.