Curriculum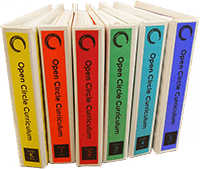 Classroom teachers implement the grade-differentiated Open Circle Curriculum during twice-weekly, 15-minute Open Circle Meetings. Students form a circle of chairs, including an empty seat to symbolize that there is always room for another person, voice or opinion.
Open Circle Meetings are also a familiar and safe setting for children to discuss important issues in their classroom, school, local community or the broader world. Open Circle lessons are highly interactive, incorporating large and small group discussions, role playing, community-building and mindfulness activities and practices, and high quality children's literature. Teachers and counselors also use the Open Circle Curriculum in their work with students who require additional, targeted instruction. The Open Circle Curriculum is designed for implementation by current and past participants in Open Circle's Core Program.
See the curriculum Scope & Sequence, a sample Table of Contents (Grade 5) or a sample lesson from Kindergarten, Grade 2 or Grade 4.
The 2015 edition of the Open Circle Curriculum includes updates across all lessons, a new unit structure, and a greater emphasis on reflection and assessment.
Curriculum Topics

Beginning Together

Getting to Know Each Other
Appreciating Difference
Non-Negotiable Rules
Nonverbal Signals

Managing Ourselves

Being Calm
Listening
Recognizing & Naming Feelings
Body Language
Getting Calm When You Feel Upset
Positive Self-Talk

Strengthening Relationships

Giving & Receiving Compliments
Including One Another
Cooperating
Speaking Up
Expressing Angry Feelings

How To Sort Problems

Dangerous & Destructive Behaviors
Annoying Behavior
Teasing
Bullying Behavior
Bystander and Ally Behavior
Recognizing Discrimination

Problem Solving

Identifying the Problem
Deciding on a Positive Goal
Brainstorming Solutions
Evaluating Solutions
Making a Plan and Trying It
Overcoming Obstacles
Being a Positive Leader