E-Newsletter
Open Circle Parade at South Elementary School!
South Elementary comes together as a community and celebrates with an Open Circle Parade
On a sunny June day, when children are antsy to start summer vacation, students at South Elementary in Andover, MA are busy and excited to share the floats they have created for their Open Circle Parade. Open Circle met with Tracy Crowley, Principal at South Elementary and asked her to share her experience with the planning and outcome of the parade.
Brief history about the annual parade: The end-of-school parade has been a tradition at South Elementary for many years. Children picked whom they wanted to do the float with and built them at home. There were no predetermined themes and the project often generated many hurt feelings.


This parade was very stressful in the past because kids became very cliquey. The Open Circle theme has really brought the kids together as a community.
~ Parent of South Elementary student


Why did South Elementary choose Open Circle as a theme this year?
This year the staff discussed how their core values could be expressed through this event -- Inclusion, empathy, collaboration and kindness were top priorities. It was decided to make the parade an all school event with two build days in school focusing on the Open Circle Concepts.
The teachers have taken on a much bigger role, but they feel it really has helped their students feel more included and come together as a community. Students participated in the design process as a team and use the social skills they have been practicing from Open Circle. They are learning how to cooperate and problem solve in an authentic learning environment.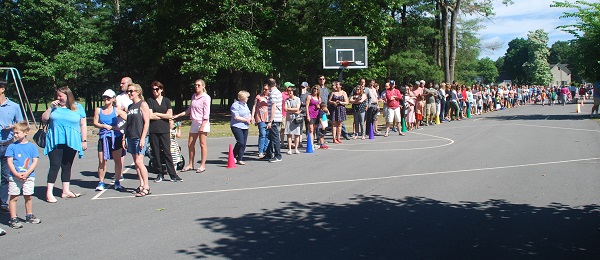 This year over 300 parents attend the parade!

What significant change did South Elementary see in this year's parade compared to previous years?
Oh my goodness! It has been amazing. The school came together in a very positive way. You can see from the video the pride in the students, teachers and parents. The parade is now one of the most exciting end of the year events at South Elementary. The staff and families are very proud of how their students were able to express what they have learned about being the same and different, empathy, leadership and inclusiveness. It is truly magical to see it come to life in their floats!


Seeing the joy on the students faces as they walk with their classmates and teachers makes my heart sing as a principal. The Open Circle Parade truly shows how creative, empathetic, collaborative and happy children can be when given the opportunity to put what they have learned into practice.
~ Tracy Crowley, Principal, South Elementary


What do you think is the most significant impact Open Circle has had at your school?
Open Circle has had a major impact on our school. The children and adults use the concepts they have learned throughout the school day. When a situation occurs, our teachers are able to bring the students together to talk about it and problem-solve based on what they have learned.
Please share how you feel Open Circle has helped "school-wide"
Creating school-wide experiences like the parade has really helped bring our school together. We want to continue to do more school-wide activities with Open Circle because students are able to see the big picture and the positive influence pro-social skills have on our school community. As you can see from the video, the entire school community gets to participate and showcase what they have learned in a fun, creative way.
Interested in sharing an Open Circle activity?
Tell us how you have used Open Circle in new and innovative ways. Send in pictures and stories to info@open-circle.org, we would love to hear from you!