About Open Circle (for Playbook)
The material on Panorama Education's Playbook is an excerpt from the grade-differentiated Open Circle Curriculum. The complete curriculum contains:
32 core lessons across five units: Beginning Together, Managing Ourselves, Strengthening Relationships, How to Sort Problems, and Problem Solving;
27 supplementary lessons;
80 community-building and mindfulness activities and practices;
27 skill mini-posters;
18 Home Link family newsletters;
Over 250 children's literature titles that connect to specific SEL topics;
A myriad of homework and extension activities; and
End-of-unit student and teacher reflection activities and additional curriculum-wide reflection and assessment tools.
EVERY MEMBER
OF YOUR SCHOOL
COMMUNITY IS AN
INTEGRAL PIECE
OF THE SOCIAL
AND EMOTIONAL
LEARNING PUZZLE!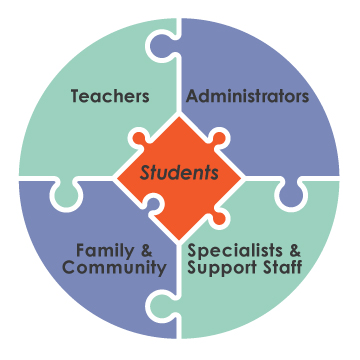 Open Circle is an evidence-based, universal social and emotional learning program for grades K-5. The grade-differentiated Open Circle Curriculum proactively develops children's social and emotional skills, including recognizing and managing emotions, empathy, positive relationships and problem solving. It also helps schools build a community where students feel safe, cared for and engaged in learning. Open Circle's unique whole-school approach includes all adults in the school community – teachers, administrators, counselors, support staff and families – learning to model and reinforce prosocial skills throughout the school day and at home.
Teachers implement the Open Circle Curriculum during twice-weekly, 15-minute classroom meetings in which students form a circle of chairs, including an empty seat to symbolize that there is always room for another person or opinion. These meetings are also a familiar and safe setting for children to discuss important issues in their classroom, school, community or the broader world. Teachers and counselors also use the Open Circle Curriculum with students who require additional, targeted instruction.
The Open Circle Curriculum is designed for educators who have participated in our Core Program, an interactive and experiential professional development experience that combines training and coaching sessions to help educators strengthen their knowledge and skills in several areas, including: social and emotional learning (SEL) theory, research and practice; facilitation; group development and community building; problem solving; mindfulness and reflection practice; appreciation for cultural and other differences in students; integrating SEL throughout the school day; and using children's literature to teach and reinforce SEL.
For more information, contact us at 781-283-3277 or info@open-circle.org.