Why SEL?
According to the Collaborative for Academic, Social and Emotional Learning (CASEL), the world's leading organization promoting integrated academic, social and emotional learning for all children in schools, social and emotional learning (SEL) is the process of developing essential social and emotional skills, knowledge, and attitudes related to five key areas: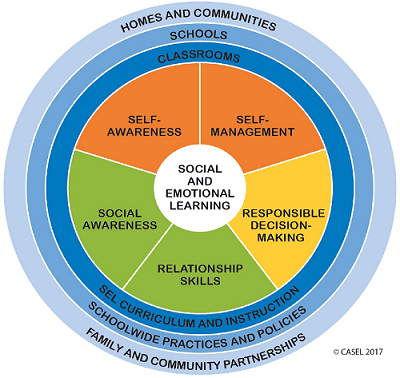 Self-awareness: recognizing one's emotions and values as well as one's strengths and limitations
Self-management: managing emotions and behaviors to achieve one's goal
Social awareness: showing and understanding empathy for others
Relationship skills: forming positive relationships, working in teams, dealing effectively with conflict
Responsible decision-making: making ethical, constructive choices about personal and social behavior
Why is SEL so important?
SEL helps children by promoting their health and well-being and contributing to the prevention of violence, truancy, bullying, and drug and alcohol abuse. In addition, SEL is associated with significant gains on academic achievement tests.
CASEL Research
New meta-analysis based on CASEL's 2011 report was published in the journal, Child Development, in July 2017. The new analysis reports that schools that implement SEL programs with fidelity may see long-term positive impact in their school. Most notably:
Benefits were similar regardless of students' race, socioeconomic background, or school location
Students' academic performance 3.5 years later is higher by 13 percentile points compared to non-SEL peers
More positive social behaviors, fewer conduct problems, and lower drug use
The overall findings from this review suggest there is tangible value in implementing SEL programming for students and their community.
CASEL Video: SEL for Parents (English) (Spanish)
Open Circle: A CASEL Recommended Program
In CASEL's 2013 Effective Social and Emotional Learning program guide, Open Circle was found to extensively address contexts that promote and reinforce SEL, including classroom-wide, school-wide and with families. In addition, Open Circle provides explicit SEL skills instruction, integration with academic curriculum areas, and opportunities for skill practice.
For more information on SEL in the Home, visit CASEL: SEL in Homes & Communities.